Long Beach Pet Odor Removal Service….By P.O.R.S.
Welcome to P.O.R.S. Long Beach Pet Odor Removal Service, the leading expert in whole house urine odor elimination for Long Beach and nearby areas! With over 30 years of experience, we effectively eliminate odors caused by cats, dogs, rodents, and human urine in residential homes, garages, and home healthcare facilities.
Our team of trained technicians expertly handle severe urine damage on various flooring types including carpets, subfloors, concrete, tile, and stone. Leveraging our in-depth knowledge in structural odor remediation, we eliminate stubborn odors that conventional cleaning methods often fail to remove. Our tried and tested techniques promise consistent results, no matter the previous unsuccessful attempts with other cleaning services or products.
Urine Odor Inspection for Prospective Home Buyers & Sellers:
As part of P.O.R.S. Long Beach Pet Odor Removal Service comprehensive service range, we conduct meticulous pet urine odor and stain detection inspections, valuable for potential home buyers and sellers. Our professional team performs in depth Pet odor investigations to identify the source of the pet urine odor. The ensuing report includes our detailed findings, expert recommendations, and a precise cost estimate for complete odor resolution. This is a valuable service for landlord & tenant disputes & Pet Disclosure Seller Questionnaire
Long Beach Pet Odor Removal Service: Expert Urine Odor Elimination from Concrete & Subfloor:
Persisting urine stains on subfloors, such as concrete, hardwood, stone, or tile, can cause lingering unpleasant odors in your home. Even with new carpet installation, these odors may persist if not properly treated. They continue to permeate your living space, compromising comfort and freshness. We specialize in effectively treating and eliminating these odors. Trust us to restore the pleasant and fresh environment you deserve.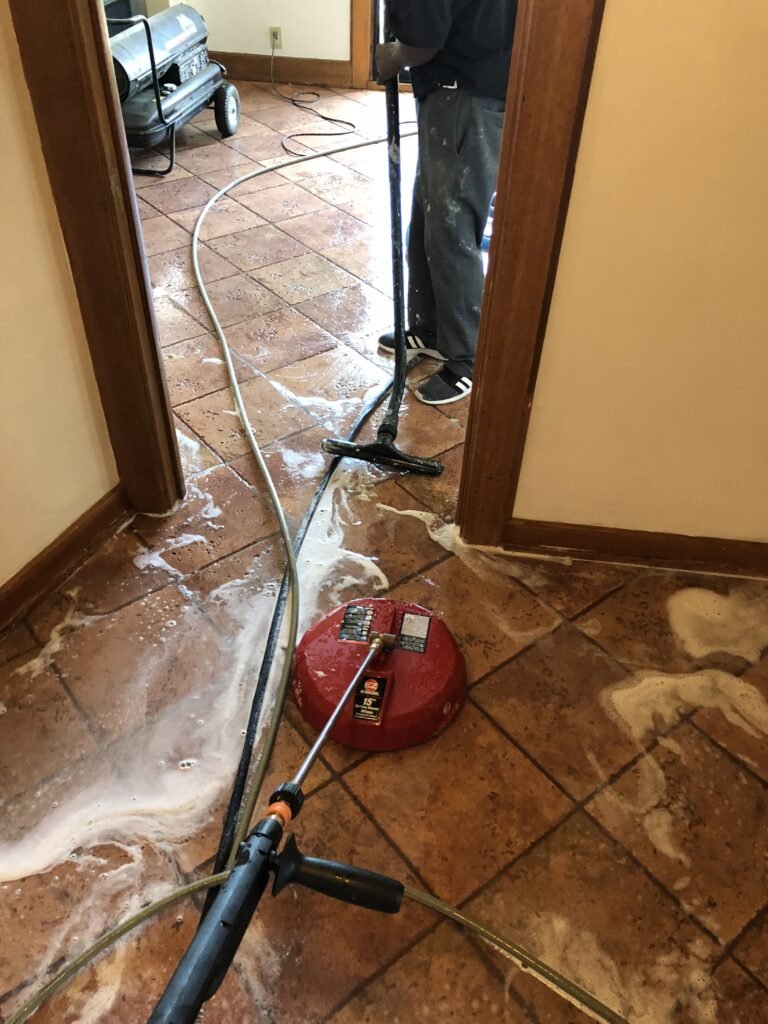 At P.O.R.S., we possess expertise in tackling these stubborn pet urine odors embedded in your subfloors and concrete surfaces. Our service begins with a thorough assessment of the affected areas, followed by a meticulous treatment process designed to address the root of the problem.
Our approach utilizes advanced odor removal technologies and proprietary Odor Encapsulator, which permeates the affected surface and creates a barrier, locking in and eliminating the unwanted odors. The result is not only a home free from the unpleasant smell of pet urine but also a deeper level of cleanliness that contributes to a healthier and more comfortable living environment.
Trust P.O.R.S., your go-to service in Long Beach, for expert urine odor removal from concrete and subfloors. With our service, you can look forward to a fresh, odor-free home, no matter the severity or extent of the pet urine damage.
Old Carpet Removal Service in Long Beach:
We offer a carpet removal service in Long Beach, specifically designed for homes dealing with significant urine damage. Our team has no problem with tearing out old urine stained and smell carpets. After removing the soiled carpet its taken to the proper nearest carpet recycling center or suitable landfill for disposal.
Following the removal, we meticulously assess and prepare the subfloors, ensuring a clean slate ready for new flooring installation. We also provide an accurate estimate for the complete elimination of any lingering pet urine odor. Our comprehensive service aims not only at restoring the cleanliness of your home but also facilitating a fresh start with new flooring.
5-Year 100% Pet Odor Removal Guarantee:
At P.O.R.S., we pride ourselves on the effectiveness of our odor removal service. We're so confident in our process that we offer a robust 5-Year 100% Pet Odor Removal Guarantee on all our services. This means that we stand behind our work for a full five years, promising you a completely odor-free home.
We understand that residual pet odors can deeply affect the comfort and enjoyment of your living space. That's why we've dedicated so much time to develop our odor removal process, using the highest quality odor encapsulators and professional techniques. Our promise to you is not just about eliminating odors today – it's about ensuring your home remains fresh and inviting for years to come.
Our 5-year guarantee is a testament to the trust and reliability we strive to uphold with every client. We are not satisfied until you are completely free of troublesome pet odors. That's the P.O.R.S. promise, and that's the peace of mind our 5-Year 100% Pet Odor Removal Guarantee provides.
Serving Long Beach and Surrounding Cities:
Our premier odor removal services reach beyond Long Beach. We are proud to extend our services to near by cities, including Seal Beach, Lakewood, Carson, San Pedro, and Huntington Beach. Our aim is to ensure every home in our service area enjoys a clean, odor-free environment.
P.O.R.S. is here to restore freshness and cleanliness to your home. Make your home an inviting and welcoming space today!
Frequently Asked Questions (FAQs) Regarding Urine Odor Removal Long Beach
1. What type of odors can P.O.R.S. remove?
P.O.R.S. specializes in removing odors caused by cat, dog, rodent, and human urine from various types of flooring and surfaces in homes, garages, and home healthcare facilities.
2. What nearby areas do you offer urine odor removal?
Our primary service area is Long Beach, but we also provide our services to the surrounding cities including Seal Beach, Lakewood, Carson, San Pedro, and Huntington Beach.
3. What is your 5-Year 100% Odor-Free Guarantee?
At P.O.R.S. Long Beach Odor Removal Service, we take pride in offering our customers a 5-Year 100% Odor-Free Guarantee. This guarantee is a testament to our confidence in the effectiveness of our odor removal process. If, within five years of our service, you experience a recurrence of the odor, we will promptly return to address the issue at no additional cost to you. Our commitment is to ensure that you have a long-lasting, odor-free environment in your home or property. Trust in our guarantee and our expertise to deliver results that stand the test of time.
4. what product you use remove urine odor from subfloor?
Our approach to treating urine soaked concrete or wood floors go beyond the typical cleaning process. We understand some of the homes we service have usually already had failed cleaning attempts.
We take pride in our ability to correct any mistakes made and apply our proven techniques to satisfy even the most discerning client. Our dedicated team is committed to ensuring your utmost satisfaction. Rest assured, we will go above and beyond to make you a happy and contented customer.
The initial stage involves an extensive preparation of the subfloors or concrete surfaces through drying and sanding. This vital step ensures the surface is adequately ready for our specialized treatment.
Once the surface is prepped, our team ensures a thorough cleaning to eliminate any lingering dust or particles. After the surfaces have been meticulously prepped and cleaned, we apply our exclusive Odor Encapsulator. This proprietary product effectively targets and encapsulates the odor, providing long-lasting odor elimination.
Unlike enzyme products that claim to destroy odors at the molecular level, our Odor Encapsulator permeates the surface and creates a vapor and moisture barrier that will seal in the odors.
Anything we treat with our Odor Encapsulator is confidently backed by our 5-year guarantee. Through this odor removal process, we ensure a long lasting and permanent solution to any lingering odor within your subfloors.
5. How does the home inspection process work?
During a home inspection, our professional team conducts an in depth investigation to identify the source of pet urine odor. After the inspection, we provide a detailed report of our findings. This report includes expert recommendations and a precise cost estimate for complete odor resolution. Our goal is to provide you with the correct information to address the issue effectively.
6. Do you remove old urine stained & wet carpets?
Yes, we offer a dedicated carpet removal service, particularly designed for homes that are soaked with dog or cat urine. We excel in getting rid of old, urine stained, and wet carpets. This service can be availed as a stand alone option or as part of our odor removal service. After the carpet removal, our team conducts an odor & wet urine test of the floors. This inspection helps us identify any remaining wet urine within the structure.
We go a step further by giving you a complete estimate for the removal of any remaining pet urine odor. Additionally, we show you the exact areas where the most significant urine damage is located. This information gives you the ability to make an informed decision on how to proceed. You'll have a clear understanding of the extent of damage and a guaranteed solution. Hiring us instills confidence in our ability to remove all traces of urine odor. Our goal is to provide you with a fresh and odor free living space. Rest assured that we will with out a doubt remove the odor issue. Choose us for a lasting solution to your odor concerns.
7. How long does it take for the odor to be completely removed?
The time it takes for complete odor removal depends on the amount of damage and wet urine found in the structure. Proper drying and surface prep is essential. Our Odor Encapsulator will usually re,opve the odor within 24 hours.