Pet Odor Inpection Service
Before You Buy A Home That Smells Like Cat or Dog Urine Get A Pet Odor Inspection!
Click Here
Carpet Removal Service
We Provide Carpet Removal Services As Part Of Our Urine Odor Removal Services.
Click Here
Remove Cat Urine Odor From Concrete
We Provide Cat Urine odor Removal For Concrete & Subfloors.
Click Here
Pet Urine Odor Removal Service:
P.O.R.S. Is a Pet Urine Odor Removal Service that specializes in Structural Urine Odor Removal we also provide Pet Odor Inspections, which is the first step in odor elimination if you don't find you won't remove it! Our experienced team conducts thorough inspections, pinpointing the sources of these unwanted urine odors. Whether you need Cat Odor Removal, Dog Urine Removal, Rodent Odor Abatement or even Human Urine Odor Removal Service, we're fully equipped to handle it all. Should we find that your carpets are the main culprits, we offer professional Carpet Removal services. We carefully remove and dispose of urine-damaged carpets, eliminating a major source of pet odors from your home. But we don't stop at the surface.
P.O.R.S. Structural Pet Urine Odor Removal Service:
Our services extend to Subfloor Urine Removal and Concrete Urine Odor Removal. These often-overlooked areas can harbor deep-seated urine odors. But with our specialized techniques, we penetrate the surface, treating the root of the problem, ensuring your home is completely odor-free.
At P.O.R.S., we understand how important it is for your new home or property on the market to be fresh and inviting. With our comprehensive urine odor removal services, we ensure a welcoming and odor-free environment for all.
Why Choose P.O.R.S. Over Other Urine Odor Removal Service?
You may be asking yourself, "Why should I choose P.O.R.S. Pet Urine Odor Removal Service over other cleaning services?" If you've already tried other cleaning products or services that have failed to eliminate unpleasant odors, the answer is simple: we won't let you down. Our Odor Encapsulator Sealer Treatment is backed with a 5-year guarantee.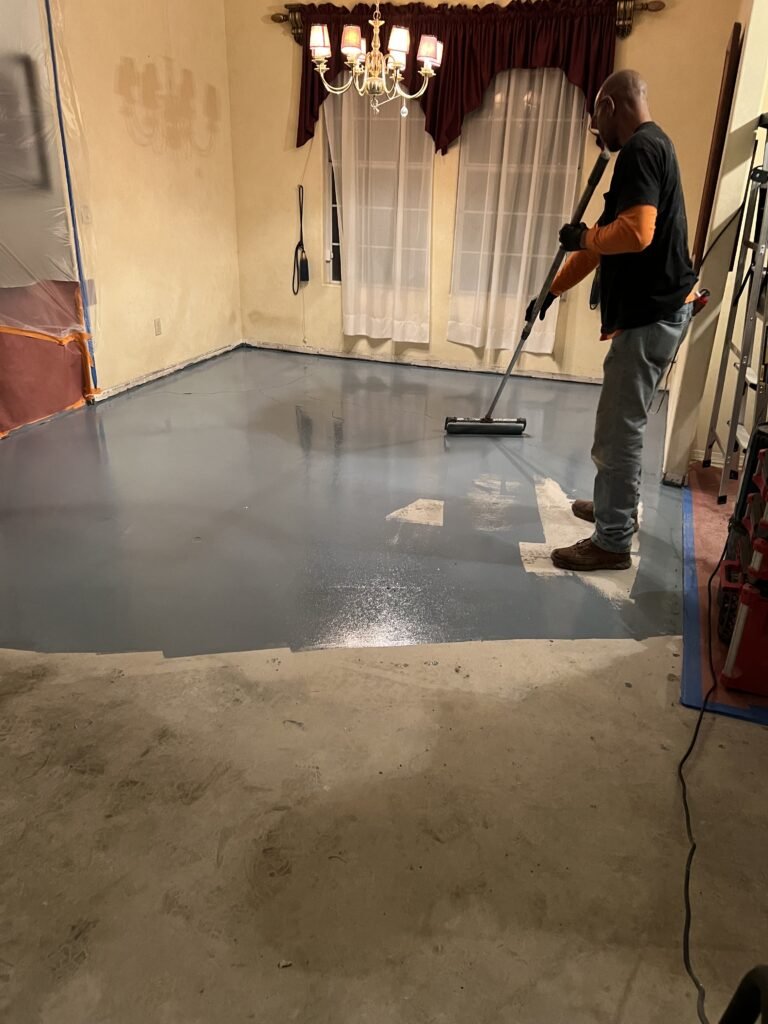 Unlike conventional odor control methods that use enzyme products, deodorizers, Chlorine Dioxide Generators, Hydroxyl Generators and Ozone Generators, we utilize advanced techniques for enduring results. Safe, effective, and guaranteed to work, our experts specialize in cat odor removal and have no problem removing urine odors caused by dogs, rodents, and humans. As a premier provider of specialized odor removal services, we're your best choice when it comes to tackling stubborn smells.
Our team is proficient in eliminating urine odor from a variety of surfaces including concrete, subfloor, drywall, tile, and hardwood floors. We don't just mask the odor; we remove it completely, ensuring 100% odor elimination before you engage your contractor for further home improvements or renovations.
Choosing P.O.R.S. means investing in superior odor & urine removal services. With our assistance, an odor-free home is not just an aspiration—it's a guarantee. Trust us with your odor removal needs and experience the difference of a truly fresh and inviting living space.
Comprehensive Pet Odor Inspections For Buyers & Sellers
For those in the process of buying or selling a home, the presence of pet odors can present a serious hurdle. At P.O.R.S., we provide comprehensive pet odor inspections to address this issue. Our services include UV-Black Light Inspection, Urine Stain Detection, Structural Odor Detection, and Structural Moisture Detection. We also provide Forensic Inspections to uncover hidden urine damage in a remodeled or updated home.
Buyers: Pet odor inspections benefit buyers in several ways. By determining the extent of the odor problem, we can help you estimate the potential cost of remediation. This can be a valuable negotiation tool, potentially enabling you to secure a better purchase price. Moreover, in instances where odor damage is severe, our comprehensive inspection empowers you with the knowledge to make an informed decision: proceed with the purchase or seek a different property.
Sellers: Our services are equally beneficial for sellers. Prior to listing a property, any existing urine damage can be identified and corrected. If the damage is severe, sellers can adjust their asking price accordingly to reflect the remediation cost, which can help the home sell more quickly and prevent low-ball offers. Furthermore, by resolving odor issues proactively, sellers can attract a broader range of potential buyers, resulting in a smoother and more profitable selling process.
In essence, P.O.R.S.'s comprehensive pet odor inspections protect both buyers and sellers, ensuring all parties can proceed with confidence and peace of mind.
Carpet Removal: For Urine, Feces or Water Damaged Carpet.
P.O.R.S. Stinky Carpet Removal: To help when you're dealing with carpets that have been damaged by pet urine, feces or Water! Our professional team is well-equipped to safely and efficiently remove urine-soaked and feces-stained carpets, ensuring that they don't continue to plague your living environment with their unpleasant odors.
At the very least, we offer a urine stained carpet removal service, which is included in our comprehensive odor remediation package. However, we also provide this service on its own, should you only require carpet removal. For instance, if you have hardwood floors beneath your carpet, our team can efficiently remove the carpet, pad, tack strips, staples, and transition pieces. Following removal, we thoroughly vacuum the floor and assess the area for any lingering urine odors that may need to be addressed.
This service can be especially useful if you've been told by a home improvement store that they won't send out an installer until the odorous carpet has been removed. Whether you're planning to replace your carpet or simply remove it to uncover a hardwood floor, we're prepared to eliminate the burden of urine stained and odorous carpets. We provide not just removal, but also haul away services, leaving you with a clean, fresh space ready for your next steps.
P.O.R.S. Cat Odor Removal: Is Our Specialty
If you're battling with persistent cat urine odor, you're not alone. This is the number one issue we encounter when it comes to severe pet urine damage. Whether it's on subfloors, drywall, concrete, baseboards, cabinets, countertops, floor joists, wall studs, or flooring, we've got the solution. Utilizing our specialized odor encapsulator, we can eliminate 100% of the cat urine smell, guaranteed.
If you've been searching for a local service to remove cat urine odor, your search ends here. At P.O.R.S., we specialize in permanently eliminating cat urine odor and returning your living environment to its original, clean state.
Our experience ranges from dealing with mild odor issues to addressing severe cat urine damage, including cases where homes were used as cat rescue facilities or suffered from prolonged neglect. Leveraging advanced removal techniques and industry-leading equipment, we target and eradicate the odor at its source.
No matter the severity of the issue, our expert team is ready to restore your living space to a fresh, clean, and pleasant environment, free from the disturbing smell of cat urine.
Subfloor & Concrete Urine Odor Removal Services
When it comes to stubborn pet odors, even concrete and subfloors are not immune. At P.O.R.S., we offer professional concrete and subfloor urine odor removal services with nearly three decades of experience backing us. Whether it's cat urine odor or dog urine odor, we've honed our techniques to permanently eliminate pet odors from cement in homes, garages, patios, and dog runs.
Our process is meticulous, starting with ensuring that the concrete and subfloors are completely dry. We then sand and clean the surfaces to prepare them for the application of our Odor Encapsulator. This product is not a quick-fix solution that simply masks the odor. Rather, it's a proven remedy that penetrates the concrete and subfloors, creating an odor and vapor barrier to seal in the odor permanently.
With our detailed prep and application of the Odor Encapsulator, we can guarantee to eliminate any trace of pet urine odor. Your home will be restored to its original state – clean, fresh, and completely free of any unpleasant odors. Trust in our expertise and experience, and let us solve your pet odor problems once and for all.
Odor Encapsulator: 24 hour Odor Removal
The hallmark of our service at P.O.R.S. is the promise of swift and effective odor removal. Once treated with our proprietary Odor Encapsulator, the offensive smell is completely eliminated within 24 hours.
While the initial prep work to get your surfaces ready for the treatment can take between 1 to 3 days for small to medium-sized jobs, and 5 to 10 days for larger jobs, the effectiveness and swiftness of the Odor Encapsulator application are undisputed. The preparation phase is crucial, as it involves ensuring all areas to be treated are completely dry and clean. This meticulous process is dependent on the size, severity, and scope of the job.
Once the preparation phase is complete, we apply the Odor Encapsulator, which penetrates various surfaces including concrete, subfloors, drywall, pavers, and hardwood. By forming an odor and vapor barrier, it permanently seals in the odor, restoring your home or space to a fresh and clean state in just 24 hours.
Choose P.O.R.S. for quick and efficient odor elimination in your home, bringing you one step closer to a clean, fresh living environment.
P.O.R.S. Odor Removal Service Outside Local Service Area:
Even if you're outside our local service area, P.O.R.S. is still ready and eager to serve you. We've answered calls and extended our expert services to clients beyond our local vicinity, in areas including Las Vegas, Phoenix, Texas, Missouri, Georgia, Michigan, New Jersey, and New York.
We operate like a road crew, flexible and adaptable to meet your needs wherever you may be located. If you're struggling to find a local company that provides guaranteed cat odor removal services, don't hesitate to give us a call. We will make it a point to accommodate you in our schedule, regardless of your location.
Whether you're based in California or elsewhere in the United States, P.O.R.S. is dedicated to ensuring that your home is free of troublesome odors. We're here to help, no matter the distance.
Local Urine Odor Removal Service Area: Southern California
Our primary service area at P.O.R.S. is Southern California. This includes but isn't limited to Imperial, Inyo, Kern, Los Angeles, Orange, Riverside, San Bernardino, San Diego, Santa Barbara, and Ventura counties. In this region, we offer all of our comprehensive services, from pet odor inspections to carpet removal and severe odor remediation.
Extended Service Area: Central & Northern California
We also extend our services to Central & Northern California, providing our specialized odor removal solutions. Whether you're located in Fresno, San Luis Obispo, Monterey, San Francisco, Sacramento, or any other county in Central & Northern California, our experts are ready to help. Please note, small jobs & carpet removal services as standalone services are generally offered in the Southern California area. However, if we are working near your location in Central or Northern California, or if you know you will need odor remediation along with carpet removal, we can make arrangements to meet your needs.
For more information or to schedule a service, don't hesitate to contact us. We're committed to helping you achieve an odor-free home, no matter where you're located in California.
Northern California:
Central California:
Southern California:
5 Year Guarantee On Odor Encapsulator Sealer
At P.O.R.S., we've got your back when it comes to removing urine odors. Our Odor Encapsulator Sealer is so effective that we offer a 5-year guarantee – that's confidence you can smell!
When you're on the hunt for a cat odor removal service, don't be afraid to ask about their guarantee. It's like giving them a sniff test to see if they really know their stuff.
But don't stop there! Do your detective work. Ask for references and check those Yelp and Google reviews. It's like reading up on their "odor-eliminating superpowers" to separate the real deal from the "spray-and-pray" amateurs.
We remove Urine odor Daily
With over 30 years of experience, we've made removing urine odor our daily mission at P.O.R.S. If that pesky odor tries to creep back within 5 years of our treatment, we'll come back and kick it to the curb, no extra charge. Because we believe in a long-term, odor-free solution that keeps your new home fresh and clean.
So, why settle for anything less? Choose P.O.R.S. for a dog urine odor removal service that's backed by our sniffer-approved guarantee. We're here to make your home smell fresh and clean, so you can bid farewell to those pesky odors and enjoy a home that doesn't have any "ruff" smells hanging around!
Free Phone Consultation & Price Quotes for Urine Odor Removal
Got questions about cat odor removal? Need advice on the best solution for your specific situation? We're here to help! Contact us for a free phone consultation or a free phone quote, and our team of specialists will provide the guidance you need.
During the phone consultation or quote, we'll listen to your description of the damages and provide you with a ballpark understanding of the cost of odor remediation. While it's not an exact quote, it gives you an idea of what to expect.
If you decide to move forward, you can schedule a Pet Odor Inspection. Please note that the inspection is a fee-based service, where our experts will assess the extent of the odor damage and provide you with a detailed quote.
We believe in transparency and ensuring our clients have the information they need to make informed decisions. So, don't hesitate to reach out for a free phone consultation or a free phone quote. We're here to assist you every step of the way!
Cost for Pet Odor Removal Services
The cost for our pet odor removal services is determined based on the severity and extent of the odor damage. To get an idea of the cost, you can take advantage of our free phone quote by calling us. However, for a more accurate assessment, we recommend scheduling a Pet Odor Inspection.
During the inspection, our experts will visit your location to conduct a thorough evaluation of the damages associated with the urine odor. We will provide you with an itemized estimate that lists our findings and service recommendations for everything from Carpet Removal to cat odor removal in the whole house. Our pricing is competitive, and we strive to deliver an unparalleled level of service.
Book Us Now
Don't let pet odors take away the comfort of your home Even if it's just for Carpet Removal… Book our services now and enjoy a fresh, odor-free living environment. Contact us today!
Conclusion
At P.O.R.S., we understand the discomfort pet odors can cause, which is why we offer professional and effective dog & cat odor removal services. With years of experience in the industry, we guarantee a clean, fresh living space in no time. Don't let pet odors take away your peace of mind. Contact us today and let us restore the freshness of your home.
Frequently Asked Questions (FAQs)
Q: How do I schedule a Pet Odor Inspection?
A: To schedule a Pet Odor Inspection, simply contact us by phone or email. Our friendly team will assist you in setting up an appointment that works for you.
Q: How long does a Pet Odor Inspection take?
A: The duration of a Pet Odor Inspection can vary depending on the size and complexity of the property. On average, it takes a few hours to thoroughly inspect and evaluate the extent of the odor damage.
Q: What do you do in a Pet Odor Inspection?
A: During a Pet Odor Inspection, our experts will conduct a comprehensive assessment of your property to identify areas affected by urine odors. We use various techniques such as UV-Black Light Inspection and Urine Stain Detection to pinpoint the sources of the odors.
Q: Is the Pet Odor Inspection fee refundable?
A: The fee for a Pet Odor Inspection is not refundable. However, if you choose to proceed with our services, a part or all of the inspection fee will be applied towards the total cost.
Q: is pet urine the only odor you treat?
A: While our specialty is cat odor removal, we can also assist with other types of animal odors, rodent & human urine odor. Please contact us to discuss your specific needs, and we'll be happy to provide guidance.
Q: Do you offer services for commercial properties?
A: Yes, we provide pet odor removal services for both residential and commercial properties. Whether you have a home, office, or retail space that needs odor remediation, we have the expertise to handle it.
Q: Is the Odor Encapsulator Sealer safe for pets and humans?
A: Yes, both our oil-based and water-based Odor Encapsulator Sealers are safe for pets and humans. Our oil-based sealer is highly effective, comes with a five-year guarantee, and meets FDA approval for use in schools and food processing plants. The water-based sealer is non-toxic and environmentally friendly. While it effectively eliminates odors, it may have limitations for severe odor remediation cases. Our team will assess your situation and recommend the most suitable option. Rest assured, both sealers prioritize safety and deliver reliable results.
Q: Can I schedule carpet removal as a standalone service?
A: Yes, we offer carpet removal as a standalone service, primarily in the Southern California area. If you only need carpet removal without odor remediation, please let us know, and we'll make the necessary arrangements.
Q: How long will it take to see results?
A: Typically, within 24 hours after application and drying, you should notice a significant improvement. But, please note that the overall timeline can vary based on factors like the size of the area and the severity of the odor. So, while it's true that you will notice immediate results once the odor encapsulator has dried, the complete odor elimination process may take a bit more time. And, because we want to guarantee the best results, before the final walk-through, our team conducts an independent inspection to ensure complete odor elimination.
Q: What payment methods do you accept?
A: We accept cash, check, and major credit cards as well as online payments. During booking process, please discuss your preference with our team so we can set it up properly.